Granger Campbell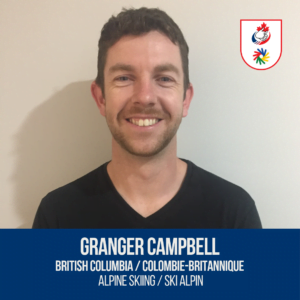 Sport: Alpine Skiing 
Province: British Columbia
Previous Games:
N/A
His Sports Debut:
Due to his family having a cabin in Mount Washington (Vancouver Island), on a ski hill, his parents taught him how to ski before he could even walk. He just turned 2 years old at the time.

His First International Competition:
This 2019 Winter Deaflympics will be his first international competition and he is looking forward to experiencing it!
His Goal for the 2019 Winter Deaflympics:
He is hoping to do his best, to compete with other countries in equal level, and to meet sliding sports athletes coming from all over the world. He lso aims to build the skiers network for future competitions and friendships.
His Biggest Accomplishment in His Athletic Career:
In 2007, while he was in grade 12, he trained so hard for the provincial championships. Prior to the race, he felt intimidated after finding out that there were several national ski racers that were competing as well. It turns out that he finished 5th out of 70 racers! He was so proud of himself! His hard work and training actually paid off!
More about Granger Campbell: 
He goes skiing as often as he can! He also enjoys hiking, exploring new places and travelling.
His motto: 
You miss 100% of the shots you don't take.
In the News:
TBC