Gerard McDonald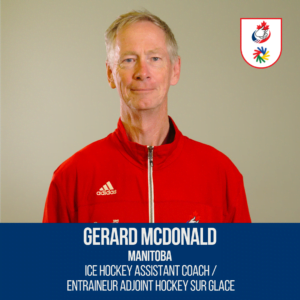 Province: Manitoba
His Role with Team Canada 2019:
Ice Hockey Assistant Coach
Games:
2007 World Deaf Ice Hockey Championship (Winnipeg, Manitoba)

His sports debut: 
At 48 years old, he started coaching Team Western in Calgary in 2006, thanks to Hubert Demers and Marty Rabu, who got him involved.
His first international competition:
His first international experience as a coach was at the 1st World Deaf Hockey Championship in Winnipeg, MB, in 2009. It was a great experience, which allowed him to organize meals and even a football game at the Winnipeg Stadium for the players and staff.
His goal for the 2019 Winter Deaflympics:
His goal for the upcoming Deaflympics is making sure that all the players and staff enjoy the experience of representing Canada at the Deaflympics, in addition to coaching the players to the best of their abilities.
His biggest accomplishments in his sports career:
Among his biggest accomplishments, we find him playing Pro hockey in Europe, the Winnipeg Jets organization, and being asked to help coach Team Canada in the upcoming Deaflympics.
More about Gerard McDonald: 
He only loves hockey!
His motto:
Whatever the time or place, just be the best you can. That is all we can ask.