George Halas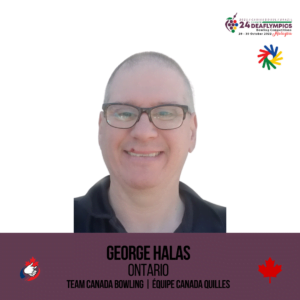 George, age 56, from Mississauga, has spent most of his life involved in sports. He has been a 10-pin bowler for 48 years. George has also won many medals in various tournaments. He now plays in two sanctioned leagues.
This is far from his first international competition. His track record includes:
2003 – World Deaf Bowling Championships in Taipei, Taiwan (Bronze medal)
2005 – Deaflympics in Melbourne, Australia (Bronze medal)
2007 – Deaf Pan American Games in Valencia, Venezuela (Bronze medal)
2009 – Deaflympics in Taipei, Taiwan
2011 – World Deaf Bowling Championships in Buenos Aires, Argentina
2017 – Deaflympics in Samsun, Turkey
For the upcoming 2022 Deaflympics, George is looking forward to seeing old friends and competing again. He's striving to do his best and medal.
His idol is Marshall Holman due to his high strike output. He is looking forward to seeing Francois Lavoie, a fellow Canadian, on the PBA Tour.
There are several interesting facts about George. For one, bowling is a family affair in his house! He has two daughters, one of whom bowls competitively with him. He was also awarded the High School Governor General's Medal in 1983, which he still holds dear to his heart to this day.