Gail Zimmer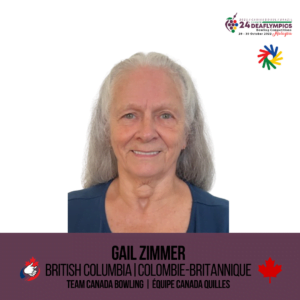 Gail, from Burnaby, British Columbia, may be 73 years old, but she still feels young and fit! An avid sportswoman, in addition to 10 pin bowling, she has also competed in darts, pickleball, badminton, tennis, volleyball, skiing and swimming. During her childhood, she also learned to fence and play grass hockey in school.
Gail is a regular at international competitions. Her impressive track record is as follows:
1965 – Deaflympics in Washington, USA (Gold & Bronze medals in swimming)
1969 – Deaflympics in Belgrade, Serbia (swimming)
1973 – Deaflympics in Malmo, Sweden (Bronze medal in swimming)
1983 – Deaflympics in Madonna di Campiglio, Italy (cross-country skiing)
1997 – Deaflympics in Copenhagen, Denmark (bowling)
2001 – Deaflympics in Rome, Italy (bowling)
2003 – World Deaf Bowling Championships in Taipei, Taiwan
2007 – Deaf Pan American Games in Valencia, Venezuela (Gold & Bronze medals bowling)
2009 – Deaflympics in Taipei, Taiwan (bowling)
2017 – Deaflympics in Samsun, Turkey (bowling)
In addition to the medals she's won in various championships at the national, provincial and local levels with the Canada Deaf Games (CDG) and the Canadian Deaf Bowling Association (CDBA), she's also participated in Championships in the USA with the Northwest Bowling Association of the Deaf (NWBAD) and the Pacific Coast Deaf Women's Bowling Association (PCDWBA). She was inducted into the PCDWBA Hall of Fame in 2003 for the All-Stars Team and Bowler of the Year. She has also won many medals in volleyball, tennis and badminton in tournaments held in British Columbia.
For the 2022 Bowling Deaflympics, Gail is looking to put Canada on the map by winning a medal, nothing less. Go Canada Go!
As a fan of bowling in American tournaments where there is more competition, Gail enjoys watching professional bowlers on television. She's a fan of George Galas in particular, who is an excellent bowler.
Sports have been Gail's passion her entire life. She has a passion for all sports and spends much of her time biking and going on hikes. She hopes to continue playing sports for as long as her health allows. During her free time, she also enjoys watching Korean and Asian series on Netflix.