Frank Chung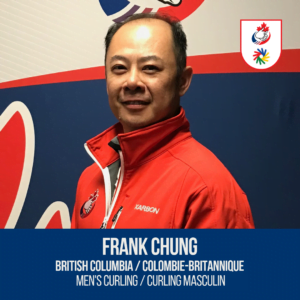 Sport: Men's curling
Province: British Columbia
His Sports Debut:
Chung started learning curling when he was in high school. Then, at 49 years old, he joined the Greater Vancouver Deaf Curling Club.
His First International Competition:
This 2019 Winter Deaflympics will be his first international competition. However, he did ptake part to the Canadian Deaf Curling Championships in Yukon, back in 2001. 
His Goal for the 2019 Winter Deaflympics:
He expects to have the greatest experience of his life.
His Biggest Accomplishment in His Athletic Career:
His biggest pride in his athletic life is to represent Canada. What a glory in his heart! It doesn't matter whether he wins or loses, he still takes pride to be a part of it with his team. He is very grateful for his coach who has been teaching them a lot. 
More about Frank Chung:
During his free times, Chung still plays curling and he loves rowing. 
His Motto: 
Always play curling!
In the News: