Fab Volpe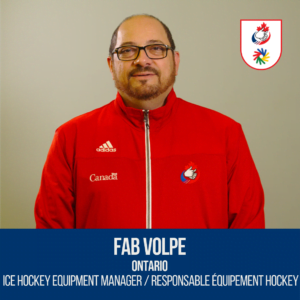 Mission Staff:
Ice Hockey Equipment Manager 
Province: Ontario
Games as Equipment Manager:
6th Canadian Deaf Ice Hockey Championships 2006 (Calgary, Alberta)
16th Winter Deaflympics 2007 (Salt Lake City, USA)
7th Canadian Deaf Ice Hockey Championships 2008 (Whitby, Ontario)
World Deaf Ice Hockey Championship 2009 (Winnipeg, Manitoba)

His Sports Debut: 
He started playing hockey during the 1980s in men's league and became trainer on his 15 years old son's minor hockey during the 1990s. He has definitely been passionate about hockey since he was a kid. Hockey is the only sport he loves.
His First International Competition:
His first international competition as Ice Hockey Equipment Manager was the 2007 Winter Deaflympics in Salt Lake City, Utah (USA). 
His Goal for the 2019 Winter Deaflympics:
His goal for this upcoming Deaflympics is to fly back home with a Gold medal.
His Biggest Accomplishment in His Sports Career:
His biggest accomplishment is being able to bond with Canadian athletes from all over the world who are there for the same reason.
More about Fab Volpe:
He loves hockey as he is a hockey trainer, skate sharpener and skate technician. He is the owner of The Skate Pit Pro Shop. He also loves cooking and reading hockey and sport news.
His motto:
Believe in yourself and work hard.