Erin Ramsay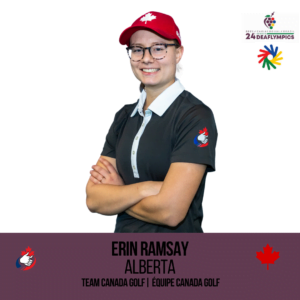 Erin, 30 years old and from Calgary, Alberta, is a graduate of the University of Alberta.
Previously a volleyball athlete, this is not her first Games or Deaflympics. She was a member of the Deaf Women's Team Canada Volleyball and took part in several international competitions:
2017 – Deaflympics in Samsun, Turkey
2016 – World Deaf Volleyball Championships in Washington DC, USA
2016 – Pan American Games for the Deaf in Washington DC, USA
2013 – Deaflympics in Sofia, Bulgaria
2012 – Pan American Games for the Deaf in Grande Prairie, Brazil
Erin started playing golf in her mid-twenties and fell in love with the sport! At the Deaflympics in Brazil, Erin is looking forward to travelling and exploring. Taking part in an international golf competition for the first time, Erin says her goal is to "give my all and to have no regrets, knowing that I played my absolute best."
Her favourite golf athlete is Tiger Woods, because he changed golf forever.