Eric Nielson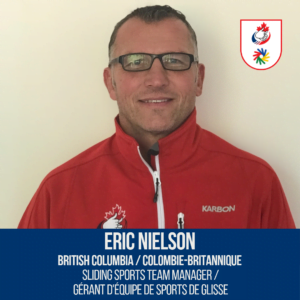 Mission Staff:
Sliding Sports Team Manager

Province: British Columbia

Previous Games:
1985 Summer Deaflympics (Los Angeles, USA) – Great Britain (GB) Team

His debut in sport: 
In England, his first serious sport was swimming but he also played in many different sports. He had swimming lessons at 10 years old and started to enjoy it. He was getting very good at swimming, so his coach trained him hard and he swam for the GB Deaf Swimming team.
His first international competition:   
These 2019 Winter Deaflympics will be his first international competition as the Sliding Sports' Team Manager but as athlete, his first international competition was in Germany. It was a pre-race to getting ready for the Euro Deaf Swimming Championship in France back in 1983. He won a bronze medal in the 100m Freestyle. It was his first time and he was only 17. It was an exciting time and a new experience was gained for him. He also won medals in relays.
His goal for the 2019 Winter Deaflympics:
His goal is to make sure all of the skiers and snowboarders are in good shape, good mood, good state and physically/mentally ready.
His biggest pride in his sports career:
He was never on the Canadian team so this will be his first. He was proud to win medals for GB and see his flag at the medal ceremony. All of the hard work had been paid off and he was able to share this wonderful experience with family and friends.
More about Eric Nielson:  
He has many hobbies, including hiking and playing in any sports whether it is badminton or pickleball. He also loves meeting new people.
His motto:
He had witnessed many events whether it is in volleyball or in dragon boat racing. He believes it is very important to be in a good state physically and mentally, be in a good mood, get a proper sleep and you will be all good.

In the news:
Eric Nielson (Deaflympics)