Emma Logan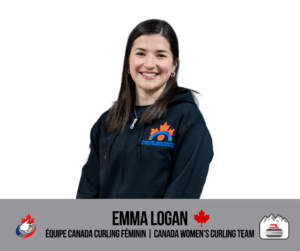 Province: Nova Scotia (NS)
Her goal for the 2022 World Curling Championship is:
To bring home the gold!
Her favourite curling athlete (idol) or team is:
Marie-Anne Arsenault. She is her aunt and has been an inspiration to her growing up, both on and off the ice.
Her success in curling is due to:
She began playing when she was 11 years old in a junior curling program at the Mayflower in Halifax. She played competitively in juniors until she went to St. Francis Xavier University for her undergraduate and skipped the varsity curling team, leading them to the university's first Atlantic Championship title and national appearance in 2017. The following year, she competed in her first Canada Deaf Games, where she met the athletes with whom she is representing Canada now. In 2019, she played lead for her aunt Marie-Anne Arsenault's team when they won the right to represent NS at the 2020 Scotties Tournament of Hearts. To represent her province at the Scotties alongside of her aunt was an absolute dream come true! On top of that, it was particularly special to represent the deaf and hard of hearing community as the first deaf curler to go to the Scotties. She got to go back the following year with another team skipped by Jill Brothers. She is now on a team skipped by Jessica Daigle and continues to compete in Nova Scotia with the goal of returning to the Scotties again.
More about Emma:
When not on the ice, she can be found by the ocean, among the trees, reading a book, creating art, or enjoying coffee with a friend! She works for a tech startup in Halifax called LifeRaft. She is passionate about accessibility and inclusion for all, and she is committed to using her voice to advocate for those with disabilities by sharing her experiences as a person with hearing loss. She has been fortunate enough to work with organizations such as the NS Hearing and Speech Centres and the Rick Hansen Foundation, where she contributes to providing accessibility and inclusion for those with hearing loss, both locally and nationwide. To meet and play with other like-minded athletes through deaf curling, she is inspired and honoured to represent her community on Team Canada.