Dr. Joe Foglia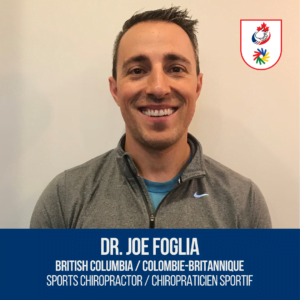 Mission Staff:
Team Doctor
Province: British Columbia 
Previous Games:
2013 Summer Deaflympics (Sofia, Bulgaria)
2015 Winter Deaflympics (Khanty-Mansiysk, Russia)

His Debut as Doctor for Team Canada:
He started working with Canadian Deaf Sport Athletes in Vancouver, specifically on the Men's Canadian Deaf Beach Volleyball Team in 2010, when he was 26 years old. He was invited by the Canadian Deaf Beach Volleyball Team's Coach (at that time Olivia Densmore) to attend the Team's Selection and Training Camps to provide Injury & Performance Care. 
His First International Competition as Doctor:
His first international competition was the 2013 Deaflympics in Bulgaria, which he attended as Team Doctor. His first Deaflympics experience was incredible on many levels. First and foremost, to experience and enjoy being immersed in Deaf Culture and surrounded by so many wonderful and impressive athletes and people from the Canadian Team and all other countries. Also, within his role and Team Doctor, it is always fulfilling to be able to utilize everything he can professionally to facilitate the athletes towards being able to put forth the best possible performances. Lastly, when the Olympic Flame entered the Opening Ceremonies arena, it was an incredibly special moment for him.
His Goal for the 2019 Winter Deaflympics:
His goal for the upcoming games is always to do everything in his abilities to best facilitate our athletes towards their peak performance.
His biggest Accomplishment in His Sports Career:
Representing his country in any and all capacities is both an incredible honour and something he take tremendous pride in. Wearing the Maple Leaf and being able to help our country's best athletes on the world stage will always be a personal and professional highlight for him. 
More about Joe Foglia:
He loves watching his three young kids begin their participation in sports. As he works at the Advanced Health + Sports Clinic, more  information about his career can be found here.
His motto:
Be a Leader worth following!