Diversity
In order to develop a new policy on diversity and inclusion, an ad-hoc committee of several people representing various communities was formed. As a result of this project, the CDSA adopted two new policies: for IBPOC diversity and for LGBTQIA+ diversity.
IBPOC & LGBTQIA+
June 2023 – Rohan Smith inducted into the Athletics Hall of Fame
Following Rohan Smith's induction into the Athletics Hall of Fame by the Gallaudet University Athletics Department, we would like to highlight the impressive career of Rohan Smith, a true role model who has competed in no less than 5 Deaflympics. His determination, talent and perseverance have made him an elite athlete who has pushed all limits.
Rohan, your passion for sport and your commitment to the Deaf community are an inspiration to us all. Through your impressive performances, you have shown the world that deaf people can reach the pinnacle of sporting excellence.
We hope your journey will inspire many young Deaf athletes to follow their passions, push their limits and believe in themselves. Rohan, you are a true inspiration and we wish you every success and happiness in your future challenges.
November 2022 – Pan American Deaf Basketball Qualification
Diversity has never been more present. Of the 15 members of the national basketball team, 11 proudly represent Canada. 

May 2022 – Summer Deaflympics in Brazil
No less than 11 people out of a total of 26 members were part of the Canadian team and who came from the diversity group. Martin Hong and Brandon Huynt are not pictured.
November 2021 – Canadian Deaf Curling Championship
A group of Canadian IBPOC curlers.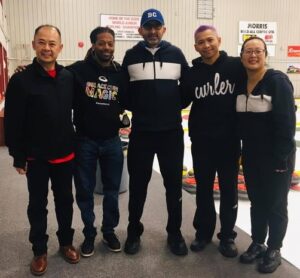 Canada Day – July 1, 2021
---
REFERENCES/STUDIES
November 2022
Canadian Centre for Ethics in Sport (CCES)
Transgender Women Athletes and Elite Sport: A Scientific Review