Dimitri THEOFILAKTIDIS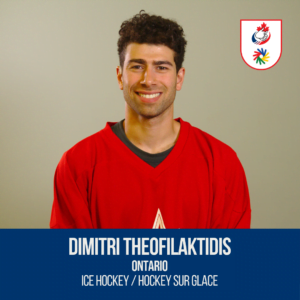 Sport:
Ice Hockey
Height: 5'11″ / 180 cm
Province: Ontario
Previous Games:
2013 World Deaf Ice Hockey Championships (Vantaa, Finland)
2015 Winter Deaflympics (Khanty-Mansiysk, Russia)
2017 World Deaf Ice Hockey Championship (Amherst, USA)
His Sports Debut:
Dimitri started playing mini hockey at home and he was so obsessed with the sport that he couldn't put his hockey stick away. He started falling in love with hockey in 1997 when he was four years old and started playing hockey at Warren Park in Toronto then moving to George Bell for a long time.
His First International Competition:
His first international competition was in Finland in March of 2013. He was proud to represent Team Canada, building connections and traveling.
His Goal for the 2019 Winter Deaflympics:
Win the gold medal.
His Biggest Accomplishment in His Athletic Career:
Winning athlete of the year in grade 8 and grade 10 and representing Team Canada on the ice.
More About Dimitri Theofilaktidis:
When he's not honing his elite ice hockey skills, he can be found working out.
His Motto:
Working at your hardest, being determined and always working to improve.
In the news:
TBC