Craig Waldbillig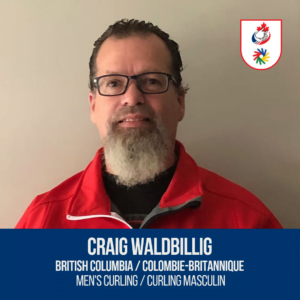 Sport: Men's curling 
Province: British Columbia
His Sports Debut:
Waldbillig started playing ping pong in 1977 in Saskatchewan and began curling in high school in 1978.

His First International Competition:
This 2019 Winter Deaflympics will be his first international competition. 
His Goal for the 2019 Winter Deaflympics:
His goal is to win gold! 
His Biggest Accomplishment in His Athletic Career:
His biggest pride is to represent Canada with his team. 
More about Craig Waldbillig : 
Curling is his life, he always plays curling.
His motto: 
Be positive and be patient.
In the News: