Cole Laing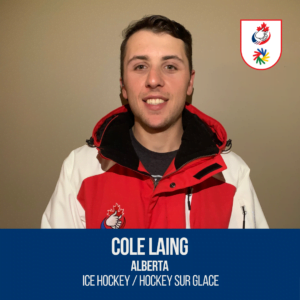 Sport:
Ice Hockey
Age: 24
Height: 5'11″ / 180 cm 
Province: Alberta
Previous Games:
2013 World Deaf Ice Hockey Championships (Vantaa, Finland)
2015 Winter Deaflympics (Khanty-Mansiysk, Russia)
2017 World Deaf Ice Hockey Championship (Amherst, USA)
His sports debut:
Back in Blackfalds, AB, Laing started handling ice hockey sticks and skating in 2001, at the young age of 6 years old. He  started by honing his skills with power skating along with his mother and started playing hockey from watching hockey games on television.
His first international competition:
His first international experience took place at the 2013 World Deaf Ice Hockey Championships in Vantaa, Finland. For him, it was an amazing experience on top of being treated as a professional.
His goal for the 2019 Winter Deaflympics:
For this year, he aims to win the gold medal while having fun and building memories.
His biggest accomplishment in his athletic career:
Showing leadership.
More about Cole Laing:
Outside the ice rink, he enjoys gaming and doing group activities.
His motto:
Teamwork makes the dream work.
In the news:
Tough competition at deaf hockey championship (April 27, 2014)
Blackfalds youth joins Team Canada for international hockey event (March 27, 2013)
A 'different' way to play for deaf hockey players (May 28, 2012)