Cody McIntyre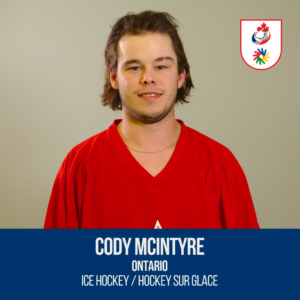 Sport: Ice Hockey 
Province: Ontario
Previous Games:
2017 World Deaf Ice Hockey Championship (Amherst, USA)
2013 World Deaf Ice Hockey Championship (Vantaa, Finland)
His Sports Debut:
His parents taught him how to skate when he was 3 years old. Then, he playing novice minor hockey for the BCH Ice Dogs.

His First International Competition:
His first international competition was the 2013 World Deaf Ice Hockey Championship in Vantaa, Finland. It was a great experience to play in an international tournament and represent his country! 
His Goal for the 2019 Winter Deaflympics:
His goal is to finally win the gold medal!
His Biggest Accomplishment in His Athletic Career:
His biggest pride is being a member of the Deaf National Hockey Team and working towards bringing home the gold medal.
More about Jesse McIntyre:
He only loves playing hockey!
His motto:
Journey to the top!