Christopher Garbacz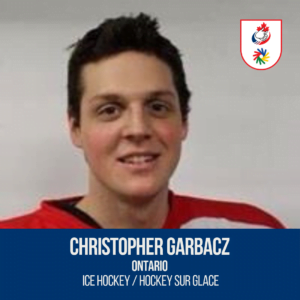 Sport:
Ice Hockey

Age: 31
Province: Ontario 
Previous Games:
2007 Winter Deaflympics (Salt Lake City, USA)
2009 World Deaf Ice Hockey Championships (Winnipeg, Canada)
2013 World Deaf Ice Hockey Championships (Vantaa, Finland)
2015 Winter Deaflympics (Khanty-Mansiysk, Russia)
2017 World Deaf Ice Hockey Championships (Amherst, USA) 
His Sports Debuts:
He started skating about 3 or 4 years old in Minor hockey and church leagues. Also, he learned to skate with the Can Skate program. His family loves skating and playing hockey.

His First International Competition:
His first international competition was the 2007 Winter Deaflympics in Utah, USA. It was a great experience for him. He was so excited and very nervous but he learned so much there! 
His Goal for the 2019 Winter Deaflympics:
His goal for the Deaflympics is to win nothing but Gold!
His Biggest Accomplishment in His Athletic Career:
Being a member of a Canadian team and winning Golden Horseshoe championship in Junior B league. 
More about Christopher Garbacz:
When he's not on the ice, Garbacz can't stay in place. He loves to play golf, volleyball, football, watch movies and all sports on TV, as well as go out for outdoors activities. 
His motto: 
Give it your all.
In the News:
TBC