Category: Builders | Officials | Mission Team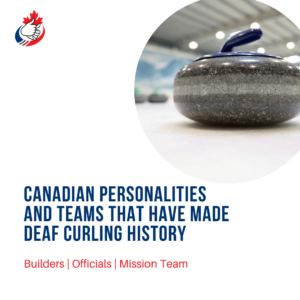 (Click on the picture)
Volunteer involved in the founding of the Western Canada Deaf Curling Association in or around 1968
Founder of the Canadian Deaf Curling Championship event which began in 1979
A curler for many years

President of the Canadian Deaf Curling Championship for many years
Pioneer in supporting deaf people to take up curling in Europe

He was encouraged by Donalda K. Ammons, President of the International Committee of Sports for the Deaf to bring the disciplines of ice hockey and curling together in one world event in Winnipeg, Manitoba in 2009.

He was Canada's first deaf curling coach at the Winter Deaflympics, in 2019 in Italy
He coached Croatia's national team at the 2019 Games

Montie is also Canada's national coach of the Mixed Doubles Team that will compete at the World Deaf Curling Championships in Banff in March 2022. This will be the first time that the mixed doubles event is held at the international level.
*Please note: This is a non-exhaustive list of national personalities and teams. The CDSA does not necessarily feature the names of the most outstanding figures in the history of Canadian Deaf Curling at the top of its list. Other national figures and teams will be unveiled at other CDSA events in the years ahead. Thank you for your attention.