Casey O'Brien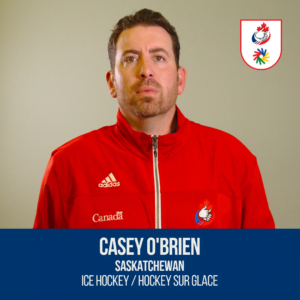 Sport: Ice Hockey 
Province: Saskatchewan 
Previous Games:
1999 Winter Deaflympics (Davos, Switzerland)
2002 World Deaf Golf Championship (Dublin, Ireland)
2003 Winter Deaflympics (Sundsvall, Sweden)
2004 World Deaf Golf Championship (Stockholm, Sweden)
2006 World Deaf Golf Championship (Edmonton, Canada)
2007 Winter Deaflympics (Salt Lake City, USA)
2009 World Deaf Hockey Championship (Winnipeg, Canada) 
His Sports Debut:
O'Brien started playing hockey in his driveway and skating when he was two years old back on the neighbour's pond on their farm. The farm was in a small community south of Ottawa called Leitrim. The neighbours were NHLers at the time he started playing hockey. Hockey was a big part of his life.

His First International Competition:
His first international competition was the 1999 Winter Deaflympics in Davos, Switzerland. It was a memory of a lifetime and he still think about it daily! Canada Team won gold and they were in one of the most scenic places and one of the greatest rinks in the world. This was the same rink that hosts the famous Annual Spengler Cup.
His Goal for the 2019 Winter Deaflympics:
For this Deaflympics, his goal is representing Canada to the best of his ability and develop lifelong friendships.
His Biggest Accomplishment in His Athletic Career:
His biggest pride is being successful in multi sports and having won gold in two Deaflympics and 2 silvers for hockey and a gold and silver in two World Deaf Golf Championships. Then, as a coach, winning multiple junior league championships. 
More about Casey O'Brien:  
When he does not play hockey or coach, he plays golf and enjoys reading in his spare time.
His motto: 
There is no tomorrow and make it a great day.
In the News: