Carmen Chan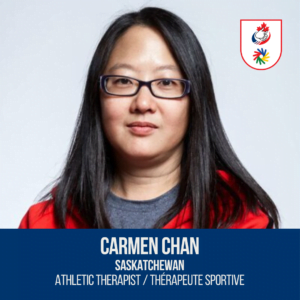 Mission Staff: Athletic Therapist
Province: Wilcox, Saskatchewan
Her First International Competition:
Her first international competition was at the FISU Rugby 7's Championship in Brive, France in 2012.
Her Goal for the 2019 Winter Deaflympics:
Her goal for the 2019 Winter Deaflympics is to keep as many players on the ice as much as possible.
Her Biggest Accomplishment in Her Sports Career:
Her biggest pride in her sports career was in 2015 Pan Am Games when Canada won double gold in rugby 7's.
More about Carmen Chan:
She loves running. More information about her career can be found on her LinkedIn Profile.