Callum Paterson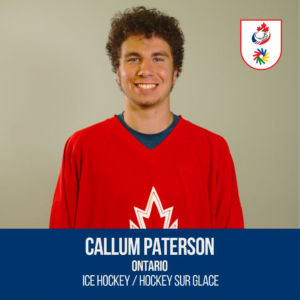 Sport: Ice Hockey 
Province: Ontario
Previous Games:
2018 U21 World Deaf Basketball Championship (Washington, USA) 
His Sports Debuts:
He started by watching the Toronto Maple Leaf on television in his living room and it caught his eyes. At the time, he knew he wanted to be a hockey player! He started playing hockey at Clarkson Community Centre when he was 7 years old.

His First International Competition:
His first international competition was at the U21 World Deaf Basketball Championship 2018 in Washington DC. The experience was incredible! He was so honoured to represent Team Canada at the world stage. He learned a lot what it's like to take part to an international competition, including skills and movements. Best of all, he met lots of new friends from other countries and picked up on some different signs languages, which was cool!
His Goal for the 2019 Winter Deaflympics:
His goal for this Winter Deaflympics is to bring Gold back home!
His Biggest Accomplishment in His Athletic Career:
Going to Deaflympics this December to represent his country in a sport that he loves is his biggest pride in his athletic career.
More about Callum Paterson: 
Like a true sports enthusiast, he loves collecting sports cards.
His Motto: 
Risk something or forever sit with your dreams.