Bryce Cook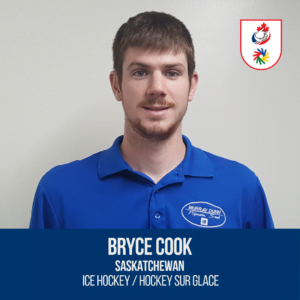 Sport:
Ice Hockey
Age: 27
Height: 5'11″ / 180 cm
Home Province: Saskatchewan
Games:
2013 World Deaf Ice Hockey Championships (Vantaa, Finland)
His sports debut:
Since Bryce's father was a hockey player and his mother was a figure skating coach, it was a natural fit for him at a young age. At 3 or 4 years old, he was actually skating on the rink more than he walked in his own home.  
His first international competition:

His first International experience was the 2013 World Deaf Ice Hockey Championship in Vantaa, Finland. To Bryce, it was a unique experience to see the different cultures as well as the different styles of hockey playing against each other.
His goal for the 2019 Winter Deaflympics:
For the 2019 Winter Deaflympics, he aims to bring back Gold to Canada.
His biggest accomplishment in his athletic career:
One of his biggest accomplishments is being able to pursue sport at a high, competitive level with athletes that face common challenges with life.
More about Bryce Cook:
When he's not skating on his rink or walking in his own home, he enjoys racing dirt bikes.
His motto:
Failure to prepare is preparing to fail.
In the news:
TBC