Brian Broszeit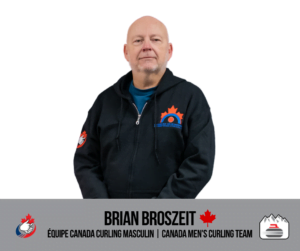 Province: Manitoba (MB)
His goal for the 2022 World Curling Championship is:
He had a knee injury in the past which kept him off the ice for 9 years, but now he's back with a brand-new team who will work hard to win a world medal.
His favourite curling athlete (idol) or team is:
Kevin Martin, due to his ability to shoot in difficult situations, and because he is a Canadian curler.
His success in curling is due to:
His vast curling experience throughout his life, as he has been playing curling since he was in high school. He is a very athletic person.
More about Brian:
He has played many different sports throughout his life. During the winter season, he enjoys curling and plays anytime. He has been involved in the Canada Deaf Curling Championships several times and has received many medals. He was chairperson for the World Deaf Ice Hockey and Curling Championships in 2009. He is enjoying his retirement, hiking, and exploring Canada and the USA on road trips with his wife, Cheryle and their son, Tylo, volunteering within the Deaf community and, most importantly, spending time with family and friends at the cottage. In sports, age is not important to him — "I will always play any sport."