Brandon Huynh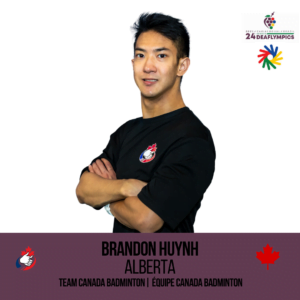 Brandon, 22, is from Calgary, Alberta, and has been playing badminton for 15 years. He played badminton in junior and high school and he now plays in a club.
This is not his first international competition. Here is his roadmap:
2017 – Deaflympics in Samsun, Turkey
2019 – Canadian Deaf Badminton Championships (Gold medallist in all categories)
2019 – World Deaf Badminton Championship in Taiwan
With the 2022 Deaflympics, Brandon can't wait to see how far the team has come from previous tournaments. He is also very much looking forward to meeting new faces from around the world and seeing familiar faces again.
For the Deaflympics in Brazil, Brandon is aiming for a podium. Realistically, he aims to gain more experience and do his best while enjoying the game to its fullest.
Thanks to the financial assistance of the CDSA, he trained two to three times a week in badminton, and it helped him a lot. "I have seen tremendous improvement in my skills and personal growth as an athlete. Before, my team and I were limited. We did not receive much support and struggled to maintain consistency in our training. CDSA made sure that we did not need to worry about that and allowed us to focus on training effectively, for which I am extremely grateful.''
Apart from his life as a super versatile athlete, he is studying accounting at university and is currently finishing a 16-month internship. "It may seem boring compared to my sporting life, but it brings balance into my life!"