Barbara Zbeetnoff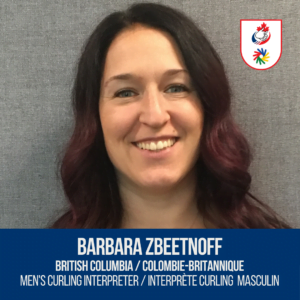 Mission Staff:
Men's curling interpreter
Province: Langley, BC

Her Sports Debut: 
Her father has curled all her entire life and he introduced her to the sport. She remembers hanging out with her sister at the curling club when they were little kids. The bartenders would keep an eye on us while her dad curled. When she moved to BC with her family, she started to curl with her sister at 11 years old in a junior program at the local club. 
Her First International Competition:
Her first international competition was as curling team manager at the 2015 Deaflympics in Khanty-Mansiysk, Russia. It was an unbelievable experience.
Her Goal for the 2019 Winter Deaflympics:
To support Men's Canada Team Curling and the rest of the Canadian team however needed and possible.
Her Biggest Accomplishment in His Sports Career:
One of her greatest memories in curling was to compete with her twin sister and being coached by her father. She is also proud to be coaching the Brazilian national women's curling team again this year and she is excited to see what they will accomplish.
More about Barbara Zbeetnoff:
She loves reading and baking.
Her motto:
"You Earn Your Medals in Practic. You pick them up at competitions"