Angie Turnbull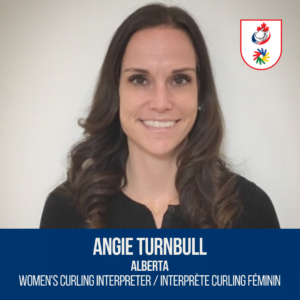 Mission Staff:
Women's curling interpreter
Province: Alberta
Her Debut in ASL Interpreting:
She started taking ASL night classes at Grant MacEwan University in Edmonton, Alberta. Then, she moved to BC for the 10-month Vancouver Community College (VCC) ASL & Deaf Studies Program. Once she graduated from the program, she attended the Douglas College Interpreting Program in New Westminster, BC. She graduated in 2006, moved back to Alberta, and began her career in Edmonton and she has been there ever since.   
Her First International Competition:
This will be her first time attending an international competition as an ASL interpreter.  
Her Goal for the 2019 Winter Deaflympics:
Her goal for the upcoming Deaflympics is to do the best job she can as the interpreter for the amazing curling team she gets to work with, supporting and cheering them on! She feels extremely grateful and honored to be part of such an incredible event and want to enjoy every moment of it, the people, the experience, and the beautiful country of Italy too. She is looking forward to learning a lot as well!
Her Biggest Accomplishment in Her Career:
She feels extremely grateful and proud to be chosen as the ASL interpreter for the Canadian Women's Curling Team. They are a wonderful group, and she is truly honored to work with them and be a part of their team.
More about Angie Turnbull:
She loves traveling, going to the mountains hiking, going to the gym, and most of all, spending time with friends & family.