Andrew Hughes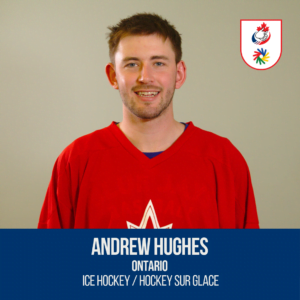 Sport:
Ice Hockey 
Age: 22
Province: Ontario 
Previous Games:
2015 Winter Deaflympics (Khanty-Mansiysk, Russia)
2017 World Deaf Ice Hockey Championships (Amherst, USA)
His Sports Debut:
He started to play Ice Hockey at his local Ice Hockey rink when he was 4 years old with others children.

His First International Competition:
His first international competition took place at the 2015 Winter Deaflympics in Russia. He had all great time meeting and competing against other athletes during those games.
His Goal for the 2019 Winter Deaflympics:
His goal is to win the Gold Medal.
His Biggest Accomplishment in His Athletic Career:
My biggest accomplishment was being chosen to represent Canada at the Deaflympics in Russia then for this 2019 Deaflympics.
More about Andrew Hughes:
Playing hockey is his favourite hobby.
His motto: 
Play like a champion today.
In the News: