Alexandre Ouellet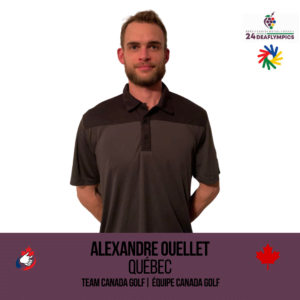 31 years old and from Saint-Jérôme (Quebec), Alexandre is quite an athlete! He started golfing aged 3, and it was at the age of 10 that golf became a serious sport for him. Now, in addition to golf, he plays dek hockey and teaches golf part-time.
The Deaflympics are far from being his first international competition. His sports track record is impressive:
2018 – World Deaf Golf Championship in Maynooth, Ireland
2014 – World Deaf Golf Championship in Michigan, USA
2012 – World Deaf Golf Championship in Tsu, Japan – 5th place
2008 – World Deaf Golf Championship in Perth, Australia
2006 – World Deaf Golf Championship in Edmonton, Canada
His performances at the Canadian Deaf Golf Championships helped pave his way to all the World Golf Championships, not to mention his spot in the top 5 in the world in 2012. He was also crowned champion in several Quebec Championships and is very active with young deaf people, encouraging the next generation of athletes.
The 2022 Games will be his first time participating in the Deaflympics, and Alexandre intends to take advantage of the experience. His goal is to "make the cut for the playoffs, participate in match play events and hopefully bring a medal back home for Team Canada."
His favourite golfer is Justin Thomas: "I really like his attitude when he is playing for the PGA. He always wants to have fun and stay positive."
When he is not on the golf course, Alexandre loves spending time with his family, camping, fishing and much more.