Alex L'Allier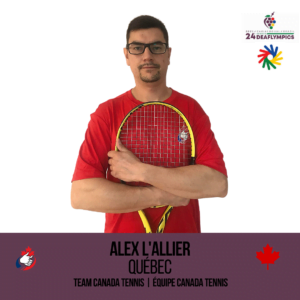 34 years old and from Montreal, Quebec, Alex L'Allier is participating in the Deaflympics for the first time. Having played for several years in regional tennis leagues, he is very much looking forward to playing tennis against other athletes from several countries on the international stage.
His goal is to have fun, stay positive no matter what and bring home a medal! Everything is possible when you want it.
Alex particularly loves everything renowned Spanish professional tennis player Rafael Nadal stands for and greatly admires his game!
In addition to tennis, Alex enjoys snowboarding in his spare time in the winter. He is competitive and loves to have fun with sports.
As Alex would say, "Vamos!"